Rockville Baseball Hall of Fame
The Rockville Baseball Hall of Fame was founded in 2019 as a way to highlight the careers of the fantastic players, coaches, administrators, and more who have made the long tradition of baseball in the City of Rockville possible. Nominations are now open for the Class of 2021. Use the link below to Nominate someone deserving https://forms.gle/DdoiXg7j6cW7YGueA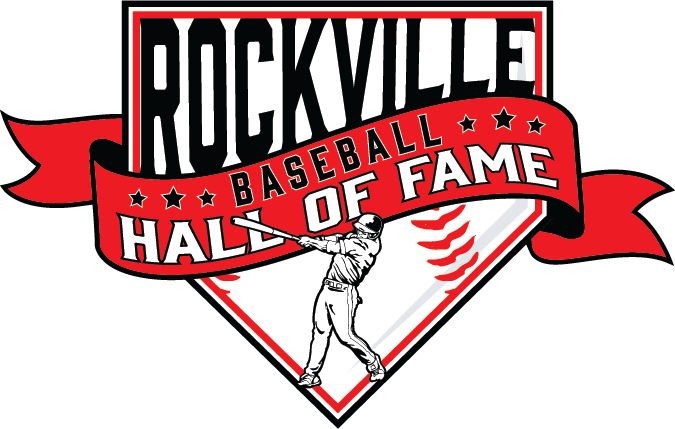 The Rockville Baseball Hall of Fame was founded in 2019 as a way to highlight the careers of the fantastic players, coaches, administrators, and more who have made the long tradition of baseball in the City of Rockville possible. The Hall of Fame's first class was inducted in 2019 and included local community members, hometown players, and members of the Major League Baseball Hall of Fame, each highlighted by their contributions to baseball and the Rockville community. The Hall of Fame will select and induct a new class every spring in combination with the Rockville Baseball Association Opening Day Ceremonies.
The Class of 2020 has been postponed due to the COVID-19 pandemic, and will be inducted later in the year.


Selection Committee

Entrusted with electing the members of the Rockville Baseball Hall of Fame is the selection committee. The nine members of the selection committee are all people who are deeply involved in the Rockville Baseball Community, learn more about them below!
Harrison Meyers

- President & Executive Director Rockville Baseball Association, Selection Committee Co-Chair

Bill Hickman - Rockville Baseball Historian, Selection Committee Co-Chair
Mike Celenza - Former Varsity Baseball Coach at Watkins Mill High School
Kyle Culver - Varsity Baseball Coach at Richard Montgomery High School
Duck Davis - Founder, Lincoln Park Athletic Hall of Fame and Alumnus, Rockville High School
Burt Hall - Former Director, Recreation and Parks Department, City of Rockville
Chuck Miller - Former Sports Program Supervisor, City of Rockville
Watson Prather - Former Girls Softball Coach, Richard Montgomery High School, Member of RMHS Athletic's Hall of Fame
Rick Price - Head Coach, Rockville Express Collegiate Baseball Team, and Former Head Baseball Coach, Montgomery College, Rockville
Sam Bender - Former All Met player at Wootton High School in Rockville, former coach with the Rockville Express and Bethesda Big Train, current coach with Montgomery College Knights Baseball